🔥 Promo Discount Available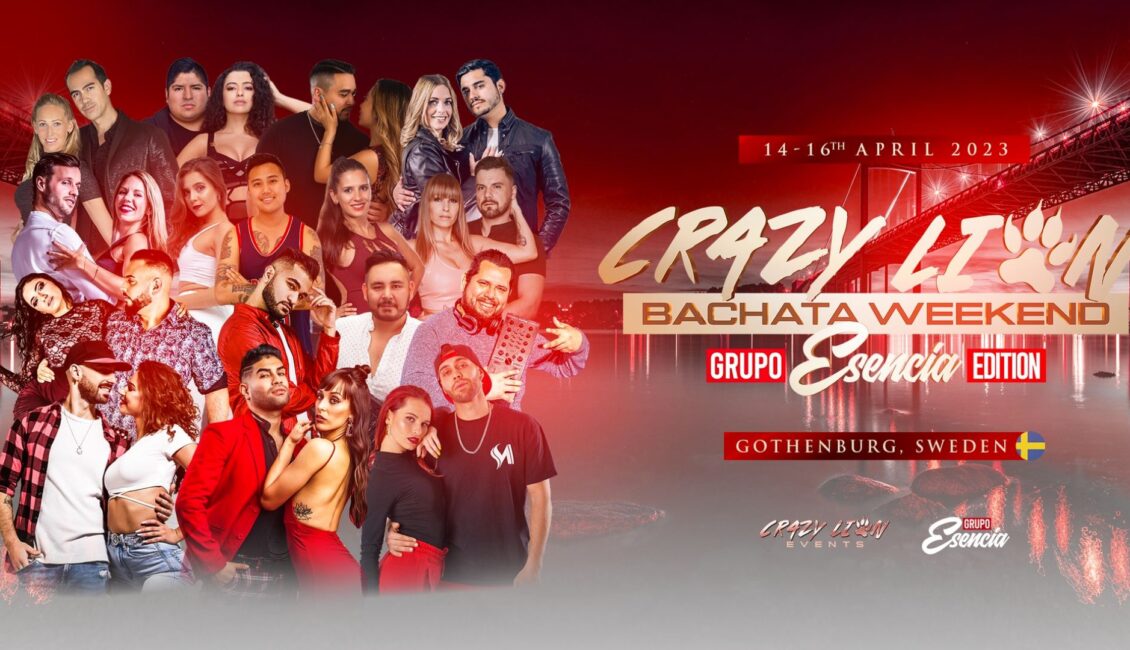 📍CRAZY LION BACHATA WEEKEND FT "GRUPO ESENCIA"
🗓 14TH – 16TH APRIL 2023, – GOTHENBURG (SWEDEN)
🔥 Promo Discount Available

A new Crazy Lion event arrives to Sweden in Spring in cooperation with Grupo Esencia, by Marco & Sara. The weekend will offer +20 workshops (including bootcamps & masterclasses) with Grupo Esencia team and Stars but also other national & international bachata artists. The organizers expect international participants & Grupo Esencia Team Shows represented from all over Europe.

✮✮✮ ARTIST LINE-UP ✮✮✮
⭐️ Marco & Sara 🇪🇸
⭐️ Gero & Migle 🇪🇸🇱🇹
⭐️ Miguel & Sunsire 🇪🇸
⭐️ Sorush – Let's Play Bachata 🇸🇪
⭐️ Antonio & Ivana 🇨🇭
⭐️ Erik & Julia 🇩🇰
⭐️ Ivan & Diana 🇸🇪
⭐️ Jeremy & Liza
⭐️ Tim & Sandra
⭐️ Valentina 
⭐️ Jessie & Anna
⭐️ Peter & Kari
⭐️ Felipe & Johanna

🎧 DJ Pier (ES)
🎧 DJ KING
🏨 Main Venue: Sinclair's Dance School
Adress: Lergöksgatan 4A, 421 50 Västra Frölunda, Sverige
🎟 Passes from 90€ in early bird. Price increases Buy your passes here (TicketTailor)
ADD PROMO CODE: BACHATALOVESME
🔥 Promo Discount Available
🗓🕺🏻Sunday party: Main parties will be only friday & Saturday.
🙎🙍🏻‍♀️ Festival size: M – Between 300 – 600 participants
🏨 Stay in (recommended by organization)
✪ Good Morning Mölndal (cheapest and closest)
✪ Åby Hotell – Best Western
✪ Hotell Mölndals Bro
✪ Scandic Mölndal


️ International Travel
️
Main airport: GOT – Gothenburg / Landvetter
Other International options:
MMX – Malmö 2,5 hours away with bus/train
CPH – Copenhagen 3 hours away with train
OSL – Oslo 3 hours away with bus
ARN – Arlanda/Stockholm 3 hours away with train

More info from organizers contact:
events@crazylion.online