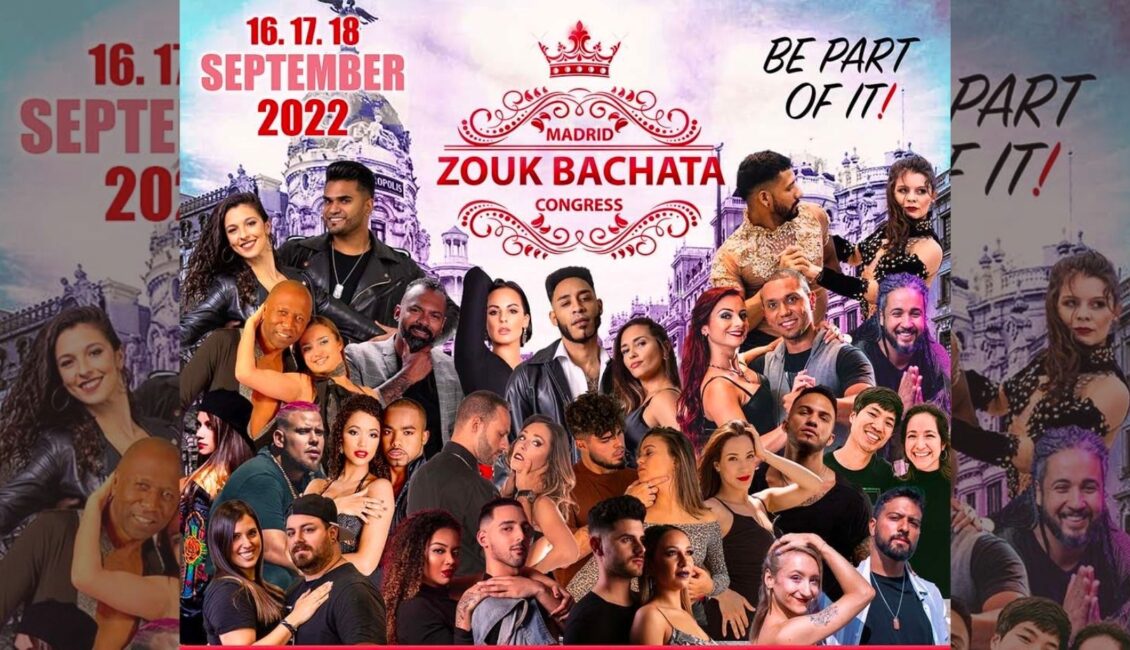 📍 MADRID ZOUK BACHATA CONGRESS
🗓 16 -19th SEPTEMBER 2022 – MADRID (SPAIN)

Two dance disciplines that could perfectly match together: Zouk & Bachata. That's the proposal for the Madrid Zouk Bachata Congress that aims to bring to Madrid the best Brazilian zouk & bachata artists. The 4th edition of this Conggres, organized by William Texeira & Irene Silvia will have classes, parties till 5AM, shows, official jack&jill competition and dance marathon! All in one place: Hotel Eurostars Madrid Foro.

✮✮✮ ARTIST LINE-UP ✮✮✮
✮ ZOUK✮
⭐️ William & Paloma
⭐️ Kadu & Larissa
⭐️ Alex De Carvalho
⭐️ Pedrinho & Linda
⭐️ Carlos. & Fernanda
⭐️ Xandy
⭐️ Gilson & Natasha
⭐️ Irene Silvia
⭐️ Paulo & Bia
⭐️ Arthur & Miriam
⭐️ Bruna & Felipe
⭐️ Nhat & Gigi
⭐️ Tiago & Julinha
⭐️ Eder & Rebeca

✮ BACHATA✮
⭐️ Luis & Andrea
⭐️ William & Irene
⭐️ Antoni & Belen
⭐️ Sergio & Ana
⭐️ Carlos & Paz

🏨 Hotel Eurostars Madrid Foro
🎟 TICKETS
www.madridzoukbachatacongress.com