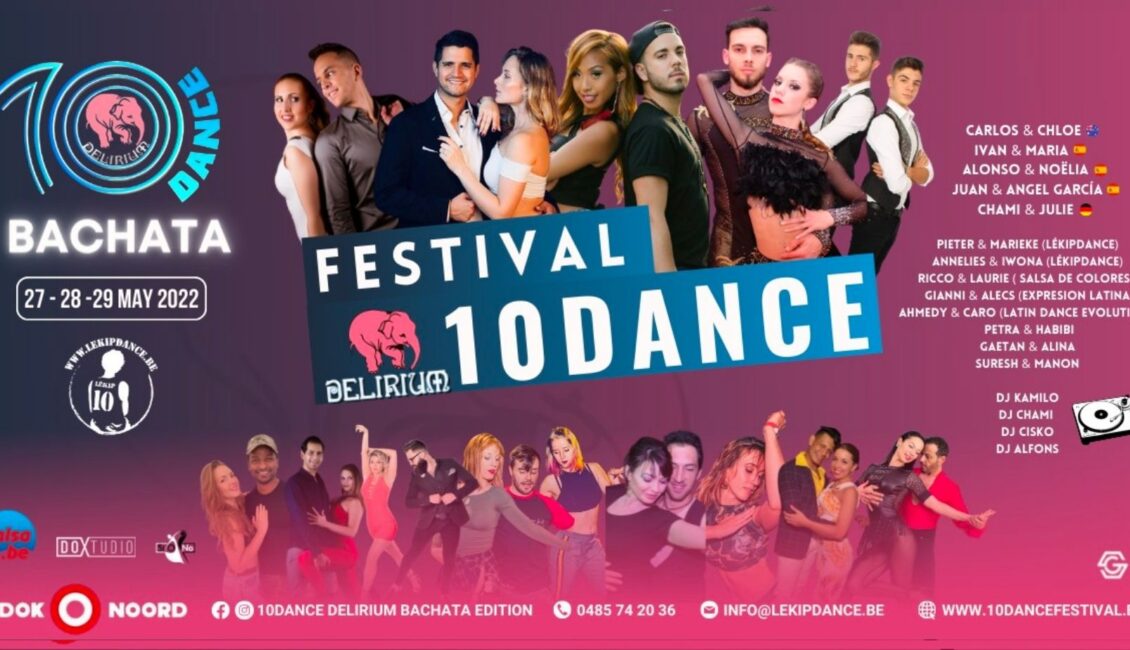 📍 10DANCE DELIRIUM FESTIVAL
🗓 27 – 29th MAY 2022 – GHENT

In late May, in the flemish city of Ghent, Lékipdance presents the 6th edition of 10Dance Delirium Festival, with one event focused in Bachata. In this edition the festival will move to a new location (DoxStudio, with 2 party areas for both Salsa & Bachata). The organizers promise 3 days & nights packed with parties, workshops & shows from a mix of International & local artists. A small sized event targeting Belgium dancers.

✮✮✮ ARTIST LINE-UP ✮✮✮
⭐️ Carlos & Chloe

⭐️ Juan & Angel García

⭐️ Alonso & Noelia

⭐️ Ivan & Maria

⭐️ Chami & Julie

⭐️ Pieter & Marieke (Lékipdance)
⭐️ Petra & Habibi
⭐️ Annelies (Lékipdance)
⭐️ Ricco & Laurie
⭐️ Iwona (Lékipdance)
⭐️ Gianni & Alecs
⭐️ Ahmedy & Caro
⭐️ Gaetan & Alina
⭐️ Suresh & Manon

DJ Chami
DJ Alfons

DJ Ka Milo


PROGRAM

Friday.
20:30 – 21:30h | Workshop
21.30 – 04:00h | Night Party (Bachata & Salsa)

Saturday
11:00 – 18.00h | Workshops
21:30 – 04:00 | Night Party (Bachata & Salsa)
23.30 – 00.00 | Shows & performances.

Sunday
12:00 – 18:00 | Workshops
21:00 – 02:00 | Party (2 areas: Bachata & Salsa)
23.30 – 00.00 | Shows

Full Pass.
From March 85€ to 95€
Buy your tickets

🏨 Partner hotel : Hotel Ibis Gent
This hotel is about 1.5 km from the festival (2min by car).
https://www.ibisbudgetgent.be/

Location: Doxtudio