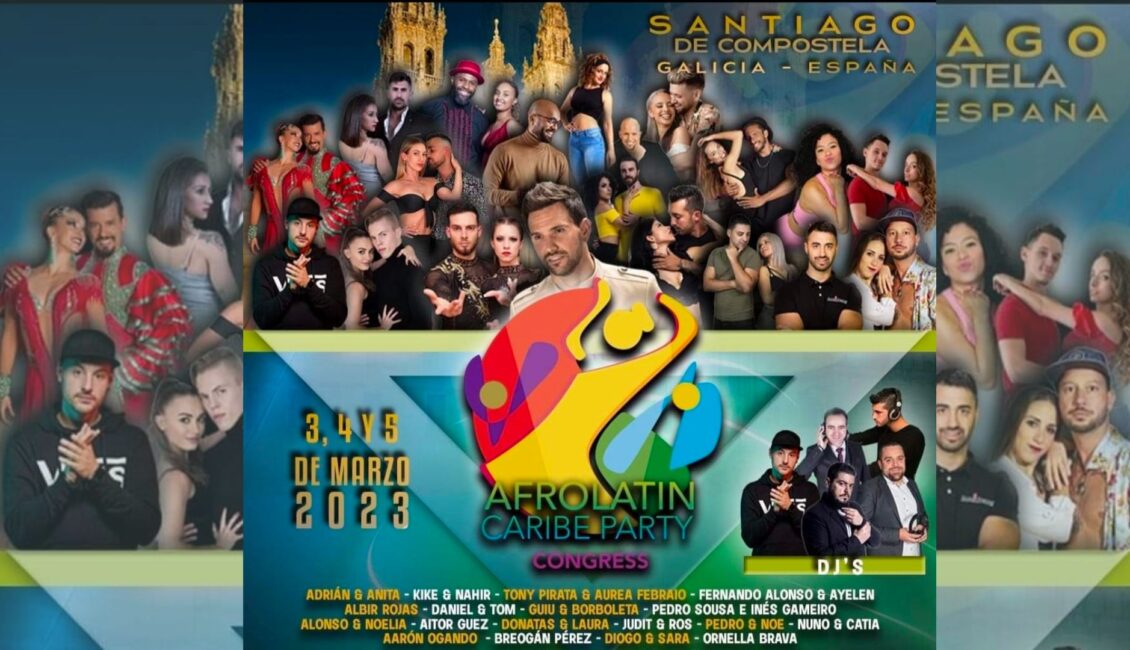 📍AFROLATIN CARIBE PARTY CONGRESS 2023
🗓 03rd – 05th MARCH 2023, SANTIAGO DE COMPOSTELA (GALICIA – SPAIN)
In the north-west of peninsula Iberica, Galicia also tries to get in the map of Bachata events in Spain. That's the intention of Son Swing events & dance school at creating the first edition of Afrolatin Caribe Party Congress in Santiago de Compostela (A Coruña). A SBK congress, where Bachata will be taking the main presence and targeting local & portuguese dance scene. The social will be divided in two rooms (one for Salsa & Bachata, and a second for Kizomba). Besides top-line artists there will be also a Dani J concert, shows and many more. The congress will take place in a one-in-all location, hotel Oca Puerta del Camino.
✮✮✮ ARTIST LINE-UP ✮✮✮

⭐️ Kike & Nahir
⭐️ Daniel & Tom
⭐️ Alonso & Noelia
⭐️ Donatas & Laura
⭐️ Judit & Ros
⭐️ Pedro & Noe
⭐️ Breogán Pérez

Salsa Artists Including: Adrián & Anita, Fernando Alonso & Ayelen Gauna, Pedro Sousa, and many more…
Kizomba artists including: Tony Pirata, Albir Rojas, Guiu & Borboleta, Aitor Guez, Nuno & Catia and many more…
🎧 DJ León
🎧 DJ Aitor Guez
🎧 Carballo
🎧 Javi Azúcar
🎧 DJ Changó
🏨 Hotel OCA Puerta del Camino. C/ Miguel Ferro Caaveiro, s/n, 15703 Santiago de Compostela, A Coruña
🎟 Buy your passes here Go & Dance
🙎🙍🏻‍♀️ Festival size: M – Between 300 – 600 participants. In October organization informed there were already 200 full passes sold.

More info from the organization:
eventos_sonswing@hotmail.com
+34 622 58 05 02