🔥 Promo Discount Available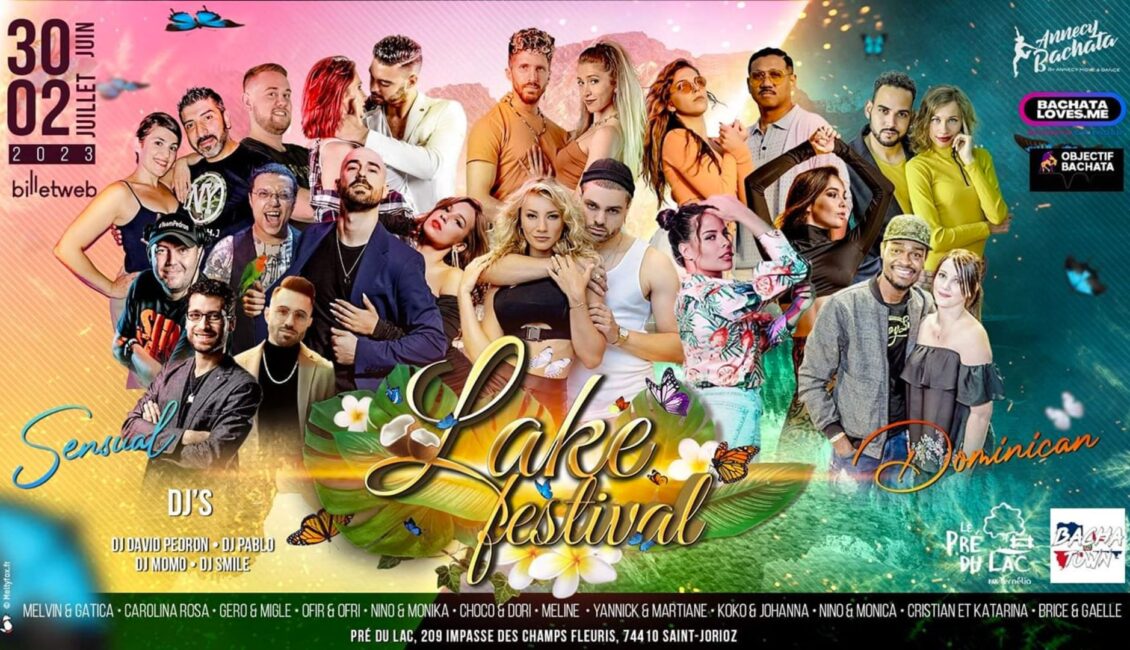 📍ANNECY BACHATA LAKE FESTIVAL 2023
🗓 30th JUNE – 02th JULY 2023 – ANNECY (FRANCE)
🔥 Promo Discount Available


Annecy Bachata Lake Festival is back in 2023, with their second edition. Just few meters away from the french lake & in an ideal location the organizers propose a "magical event" that aims to be "full of surprises & craziness". Fancy a sap visit after workshops? That's going to be possible. Check the mixed line up with international artist and local french talent, with participants coming from all over France and other European countries. The festival will take place in holiday center 4*, Le Pré du Lac with accomodation in full board.


✮✮✮ ARTIST LINE-UP ✮✮✮
⭐️ Melvin & Gatica 🇫🇷🇳🇴
⭐️ Gero & Migle 🇪🇸🇱🇹
⭐️ Ofir&Ofri 🇮🇱
⭐️ Yannick & Martiane 🇫🇷
⭐️ Nino & Monica 🇨🇭
⭐️ Carolina Rosa 🇩🇴

More artists on Traditional Bachata & Salsa:
Cristian & Katarina, Choco & Dori, Meline, koko & Johanna, Anar & Chantal.
🎧 DJ David Pedron
🎧 DJ Pablo
🎧 DJ Momo
🎧 DJ Smile
And more
SCHEDULE
– Pre-Party on Thursday the 29th of June at Le Marché de la Seiche in Sévrier.
Friday & Saturday with workshops, pool parties…
🗓🕺🏻Sunday party: Last party at Le marché de la Seiche un Sevrier until 1 am.
🏨 Main venue name and address
Vacation center 4 * Le Pré du Lac in Saint Jorioz
Pack 2 nights + Full pass in Full Board:
From 269 € up to 325 € in single room in early bird prices to 305 € or 360 € in single room. Check changin prices in official booking website. (Prices including 2 or 3 nights in Full board (All meals included) with pass access at every workshops, parties, unlimited access to the spa and the external swimming pool)

🎟 Buy your passes here
In the final section add code BACHATALOVES for your 10€ discount.
Tickets alone from 89€ to 129€. Party Pass available.
There will be free parking & free cloackroom service.
More info with the organizers:
WhatsApp Rochdi at +33(0) 6 01 32 80 01
Email at ablakefestival@gmail.com