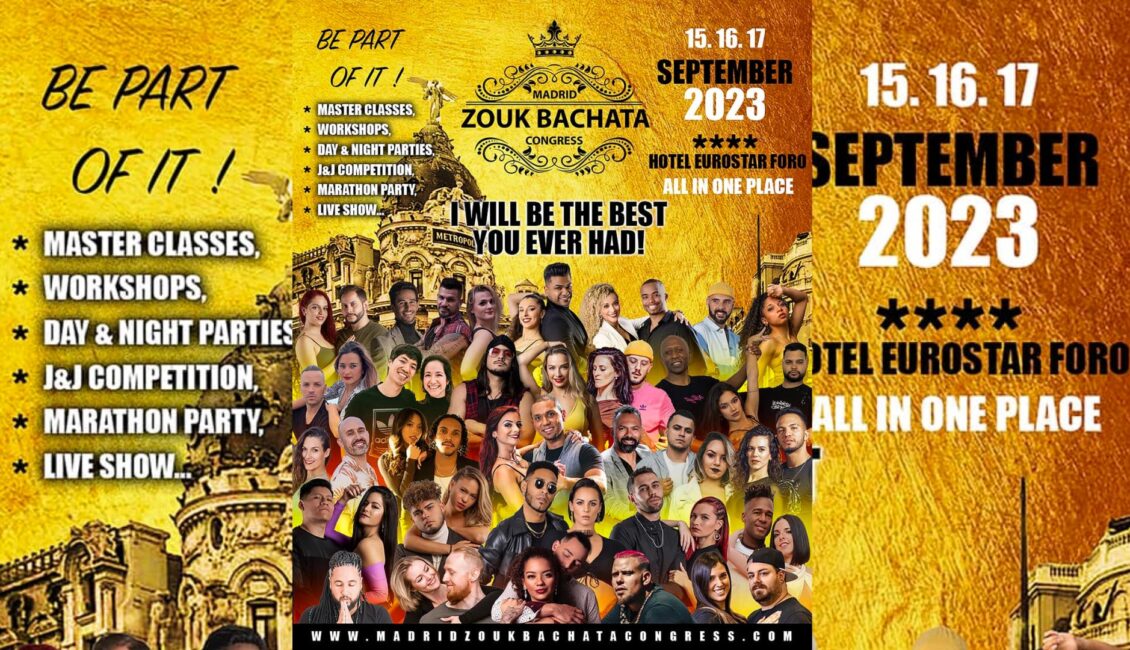 📍 MADRID ZOUK BACHATA CONGRESS 2023
🗓 15 -17th SEPTEMBER 2022 – MADRID (SPAIN)

Zouker@ that also loves Bachata? Bachater@ that also loves Zouk? Two dance disciplines that could perfectly match together: Zouk & Bachata. That's the proposal for the Madrid Zouk Bachata Congress 2023, that repeats in Madrid with the best Brazilian zouk & few bachata artists. Indeed let's say it's a Zouk Congress with a touch of Bachata. The 5th edition of this Congres, organized by William Texeira & Irene Silvia will have classes, parties till 5AM, shows, official jack&jill competition and dance marathon! All in one place: Hotel Eurostars Madrid Foro.

✮✮✮ ARTIST LINE-UP ✮✮✮
✮ ZOUK✮
⭐️ William e Irene
⭐️ Alex de Carvalho
⭐️ Kadu y Larissa
⭐️ Bruna y Felipe
⭐️ Nhat y Gigi
⭐️ Pedrinho Mattos
⭐️ Olaya y Papagaio
⭐️ Renato y Ania
⭐️ Dominik y Mónica
⭐️ Éder y Rebeca
⭐️ Arthur e Isa
⭐️ Marck y Melyssa
⭐️ Rau e Isa
⭐️ Mika
⭐️ Gab y Sabrina
⭐️ Carlos y Fernanda
⭐️ Xandy Liberato
⭐️ Natasha y Alejandro
⭐️ Gilson y Sara.

✮ BACHATA✮
⭐️ Miguel & Sunsire
⭐️ Antoni & Belen
⭐️ Carlos & Paz
⭐️ William & Irene
⭐️ Manu & Johanna
⭐️ Luiz & Andrea

🏨 Hotel Eurostars Madrid Foro
🎟 TICKETS
www.madridzoukbachatacongress.com