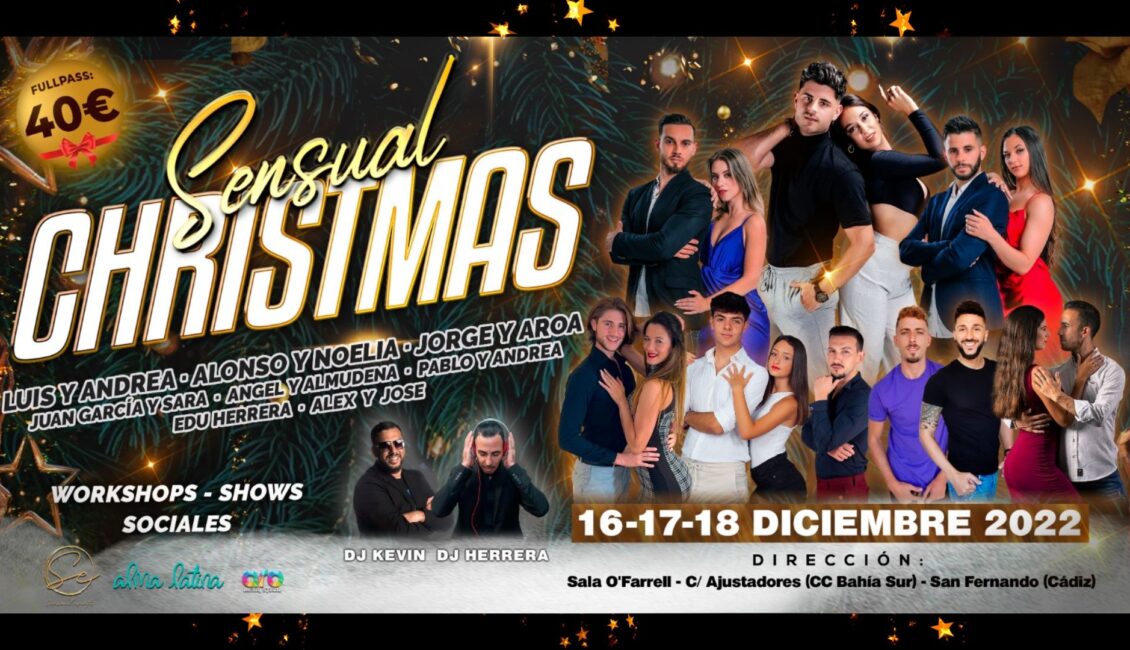 📍SENSUAL CHRISTMAS IN CADIZ
🗓 16th – 18th DECEMBER, CADIZ (SPAIN)
After the last year first edition comes back "Sensual Christmas" in Cadiz, by Sensual Events. A 100% bachata event with 3 days of workshops & two main parties (Friday & Saturday). A mix of local talent & international Spanish stars to start closing the year by the beach. A small sized events, hosted in a local nightclub, that targets local community and some Sensual fans that want to scape the cold weather and be December in Cádiz.
✮✮✮ ARTIST LINE-UP ✮✮✮
⭐️ Luis & Andrea 🇪🇸
⭐️ Alonso & Noelia 🇪🇸
⭐️ Jorge & Aroa 🇪🇸
⭐️ Juan Garcia & Sara 🇪🇸
⭐️ Angel & Almudena
⭐️ Pablo & Andrea
⭐️ Alex & Jose
⭐️ Edu Herrera
DJ's
🎧 Dj Herrera
🎧 Dj Kevin RG
🏨 Main venue
Sala O'Farrell
C/ Ajustadores (CC Bahía Sur) – San Fernando (Cádiz)
Main nearby hotel recommended "Hotel Bahía Sur" (5 min walking from venue)

🎟 Buy your passes here (Go & Dance)
Full pass from 60€
✈️ Travel information:
Nearest Airport "Aeropuerto Internacional de Jerez La Parra (XRY)" as alternative you can check Aeropuerto de Sevilla San Pablo (SVQ) and afterwards Train to Estación de tren San Fernando-Bahía Sur.
Correo: issensualevents@gmail.com
@sensualevents
+34 603 63 94 64