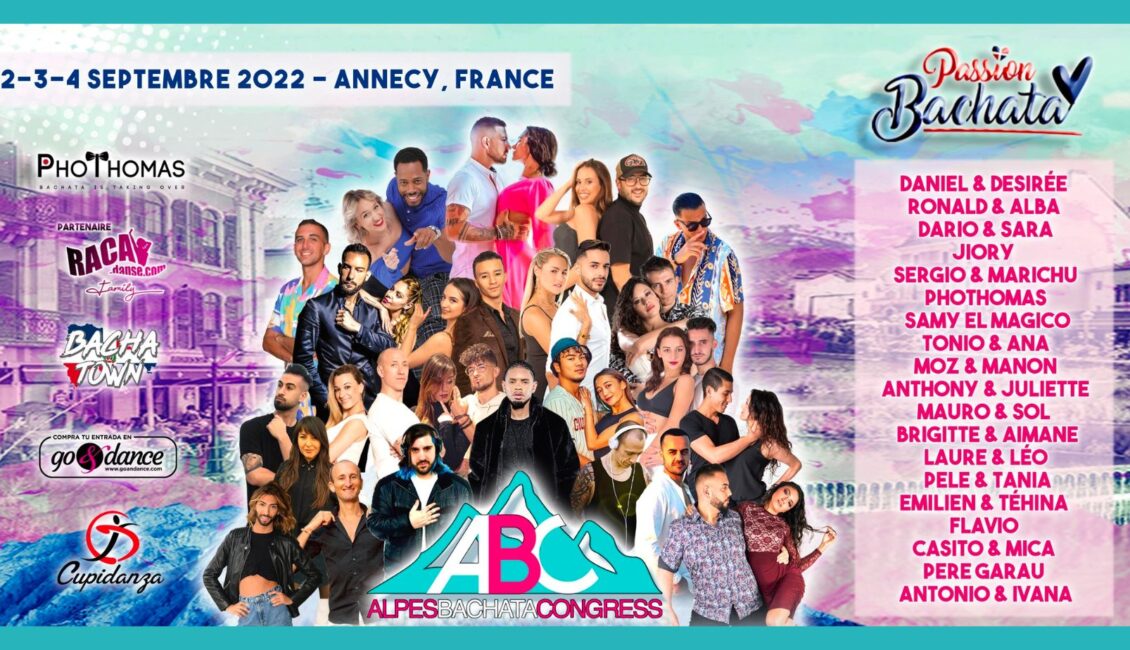 📍 ALPES BACHATA CONGRESS
🗓 02 – 04th SEPTEMBER 2022, ANNECY (FRANCE)

Before autumn arrives we have an opportunity to enjoy the views of beautiful Annecy Lake, located in an alpine french region close to the Switzerland border. The first edition of "Alpes Bachata Congress" will take place from 2nd to 4th September in the luxurious 4 stars hotel Impérial Palace, with amazing views to the lake. The event will have a mix of TOP international lineup of artists & the upcoming french growing talent. The location will be easy to arrive from all over Europe as Geneva International airport it's easily reachable by train, bus, car.

✮✮✮ ARTIST LINE-UP ✮✮✮
⭐️ Daniel & Desire
⭐️ Ronald & Alba
⭐️ Dario & Sara
⭐️ Samy el Magico
⭐️ Pele & Tania
⭐️ Mauro & Sol
⭐️ Moz & Manon
⭐️ Tonio & Ambre
⭐️ Ludovic Besset
⭐️ Brigitte & Aimane
⭐️ Anthony & Juliette
⭐️ Laure & Léo
⭐️ Emilien & Téhina

🎧 DJ'S:
🎧 DJ Alejandro
🎧DJ Pele

VIDEOGRAPHER:
Phothomas
Bachatown
And many more surprise!
PRICES :
Full pass : 140€
Party pass : 50€

Buy tickets from Go & Dance:

More info from the organizers:

🎟 Official Website Annecy Alpes Bachata Congress.

NOVOTEL Annecy
1 place Marie Curie
1 avenue de Berthollet
74000 Annecy

Single room+breakfast x 2 nights: 300€

Double room+breakfast x 2 nights: 320€

Triple room+breakfast x 2 nights: 360€