🔥 Promo Discount Available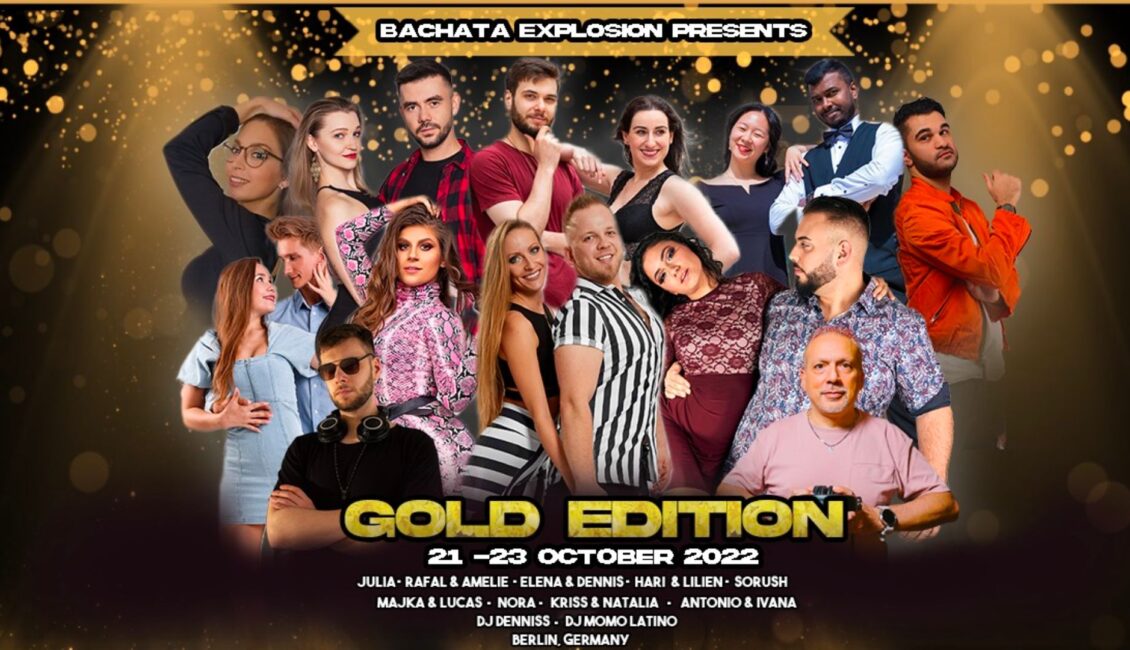 📍 BACHATA EXPLOSION – GOLDEN EDITION
🗓 21 – 23RD OCTOBER 2023 – BERLIN

Berlin will explode of Bachata with a new event created by bachateros and for Bachateros. From 21st – 23rd October arrives Bachata Explosion Golden Edition. A small-sized event but with an already interesting line worth checking up. Local talent & internationnal bachateros in +12h workshops and 2 night parties with a Jack & Jill competition and guest dancers.
⭐️ Antonio & Ivana – Switzerland
⭐️ Kriss & Natalia – Poland
⭐️ Rafal & Amelia – Poland
⭐️ Nora – Prague
⭐️ Sorush – Sweden
⭐️Majka & Lucas – Poland
⭐️ Julia (JULES) – Austria
⭐️Dennis & Elena – Berlin
⭐️ Hari & Lilien – Berlin/Hamburg
⭐️ DJ DenisS – Berlin
⭐️ DJ MoMoLatino – Prague/Poland,

Tickets & Pricing
Early bird passess from 70€. Price will increase as days approach.

🎟 Buy your tickets at BuyTickets.AT
-5€ discount Add promo code: JULES

For more information.
Contact organizers:
Instagram / Facebook : @bachata.explosion
Email : bachata.explosion@gmail.com
Mobile : +49 15735134104 / +49 1625386495
Event is organised by Elena
Dennis & Hari