🔥 Promo Discount Available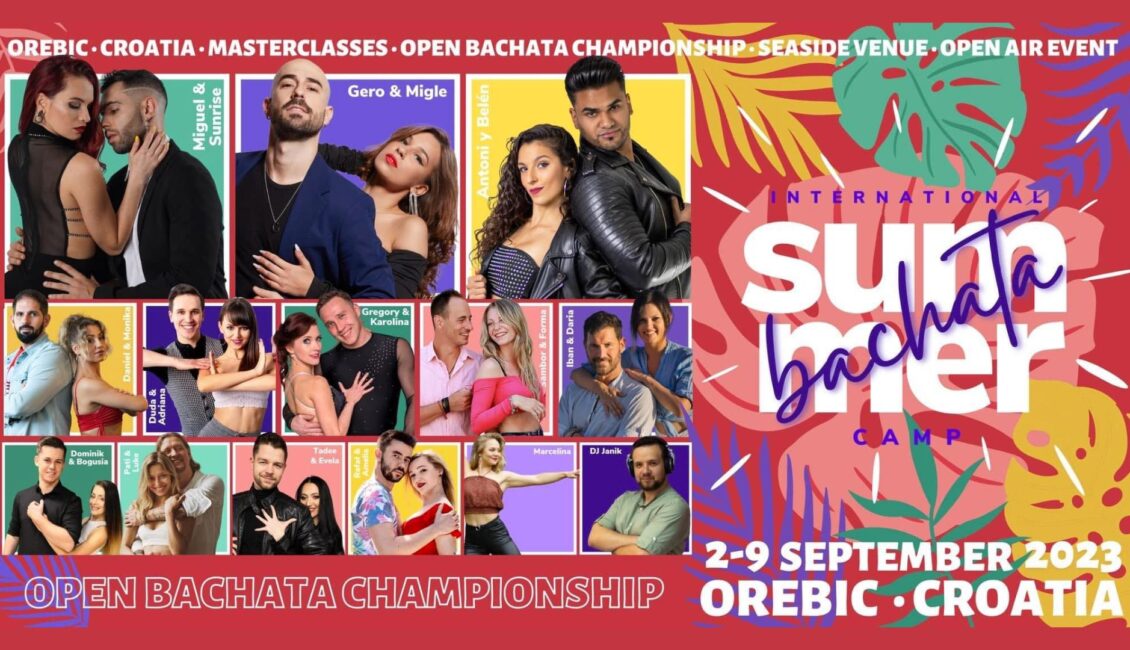 📍 BACHATA SUMMER CAMP CROATIA
🗓 02th – 09th SEPTEMBER 2023 – OREBIC, DUBROVNIK (CROATIA)
🔥 Promo Discount Available

Second renewed edition of the Bachata International Summer Camp Croatia 2023. A weeklong 100% Bachata, international holiday event with international bachata stars. Started as polish event now aims to attract dancers from around Europe, in an informal atmosphere that reminds you an international summer camp. The event will take place in Orebic, in a camp-site by the beach in the Adriatic coast, hosting also a Open Summer Bachata Championship (originally a Polish Bachata Championship). The event will happen open-air, but "providing special dance floor dedicated for open air classes and parties"!
⭐️ Gero & Migle 🇪🇸🇱🇹
⭐️ Miguel & Sunrise 🇪🇸
⭐️Antoni & Belen 🇪🇸
⭐️ Duda & Adriana 🇵🇱
⭐️ Daniel & Monika Rojewscy 🇵🇱
⭐️ Iban & Daria 🇪🇸🇵🇱
⭐️ Sambor & Forma 🇵🇱
⭐️ Rafał & Amelia 🇵🇱
⭐️ Gregory & Karolina 🇵🇱
⭐️Tadee & Evela 🇵🇱
⭐️ Pati & Luke 🇵🇱
⭐️ Marcelina Stępińska 🇵🇱
🎧 DJ Janik

More info from the organizers:

*About the location: The campsite has a beach bar and a windsurfing school with rental kayaks too.
There are different kind of mobile houses for 5 people with 2 bedrooms and 1 or 2 bathrooms. Also there are premium with views to the sea.
Choose the perfect option for your accomodation on the following link:
https://www.taksidi.pl/wyjazdy/bachata-summer-camp-croatia-2023-ENG

🎟 PRICE & REGISTRATION:
This year, our regular trip price will be PLN 2,250 zl and in the First Minute option, the trip will cost PLN 1,870zl* There will be classes from basic to advanced and additional masterclasses.
ADD BACHATALOVESME as group discount
🏨 Location: Camping Perna in Orebic
There's option to go by bus from Poland.
Travel information: Posible to arrive with flight connections to Dubrovnik or Split