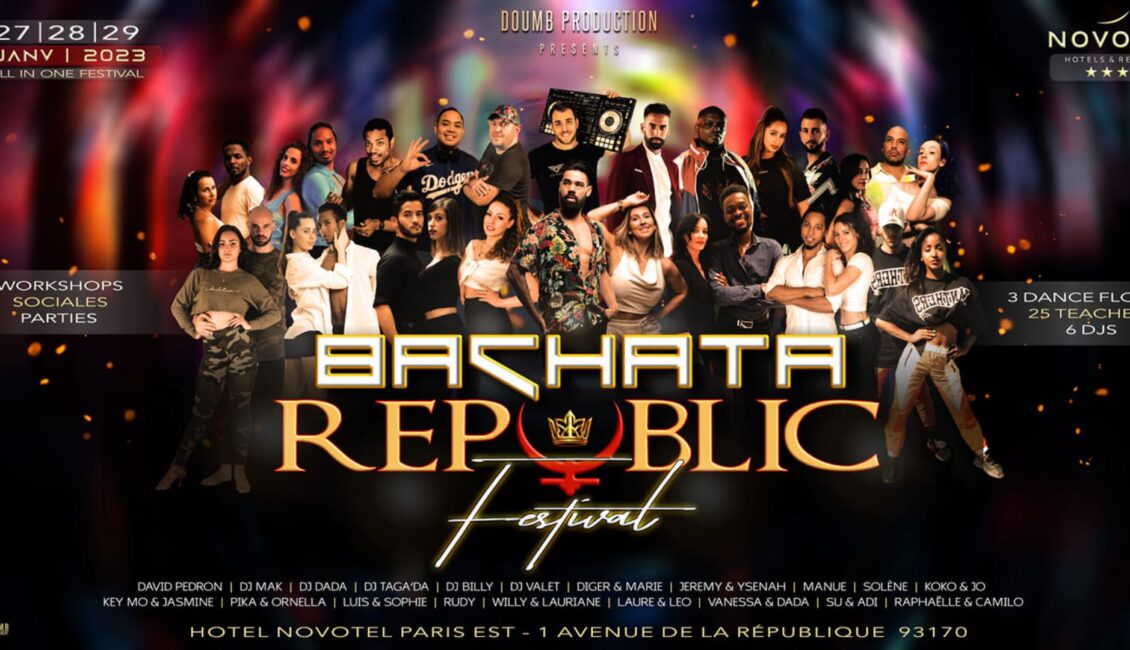 📍BACHATA REPUBLIC FESTIVAL PARIS 2023
🗓 27 – 30TH JANUARY 2023 – PARIS, FRANCE
Bachata Republic Festival 2023 is a new 100% bachata event that is sure to be a new good local festival with Parisian and French Bachateros. The organizers claim have previous experience, having been in the business of organizing Kiz & Salsa dance festivals for over 8 years (like Suave Dance Festival). This all-in-one festival will take place at the Novotel Paris Est and will showcase French artists and new talent, as well as a lineup of local DJs.
Paris is known for its rich history in Kizomba, but the Bachata Republic Festival 2023 is one of many bachata events that are adding to the city's vibrant dance scene.
✮✮✮ ARTIST LINE-UP ✮✮✮
⭐️ Diger & Marie
⭐️ Jeremy & Ysenah
⭐️ Manue
⭐️ Koko & Johanna
⭐️ Key mo & Jasmine
⭐️ Luis & Sophie
⭐️ Willy & laure
⭐️ Laure & leo
⭐️ Su & adi
⭐️ Vanessa & olivier
⭐️ Raphaelle & camilo
⭐️ Pika & ornella

🎧 Dj David Pedron (Paris)
🎧 Dj Mak (Paris)
🎧 Dj Dada (Paris)
🎧 Dj Taga Da (Paris)
🎧 Dj Billy (Paris)
🏨 Main venue name and address
Novotel Paris Est – 1 Avenue de la Republique 93170 Bagnolet
🎟 Buy your passes here
https://my.weezevent.com/bachata-republic-festival
Full pass from 90€
Bachataloves.me & Friends: WILLAU for 15€ discount code.


Important information from the organization:
Please be aware that the Bachata Republic Festival 2023 has a few restrictions. There will be no CB (Bankcard payment) available at the event, so be sure to bring cash. There will also be no ATM in the hotel, so it is recommended to come prepared with the cash you will need for the duration of the festival. In addition, please note that no coats, bags or drinks will be allowed in the dancing area. Payment of cloackroom & bar will be with vouchers – cards to be bought at the entrance.
Program:

Friday – Social Room from 16-20h. With party Until 5am. Dress Code: Pirates
Saturday: From 11 to 19h workshops – From 14-20h Social Room – From 23 – 05:00 Party Dress Code: King & Queen
Sunday: Workshops from 11 to 19h workshops – From 14-20h Social Room – From 23 – 04:00 Party Gala & Mascarade.

🗓🕺🏻Sunday party: Will take place until 04.00 with a 100% bachata party.

More info with the organization:
Doumbevents@gmail.com