🔥 Promo Discount Available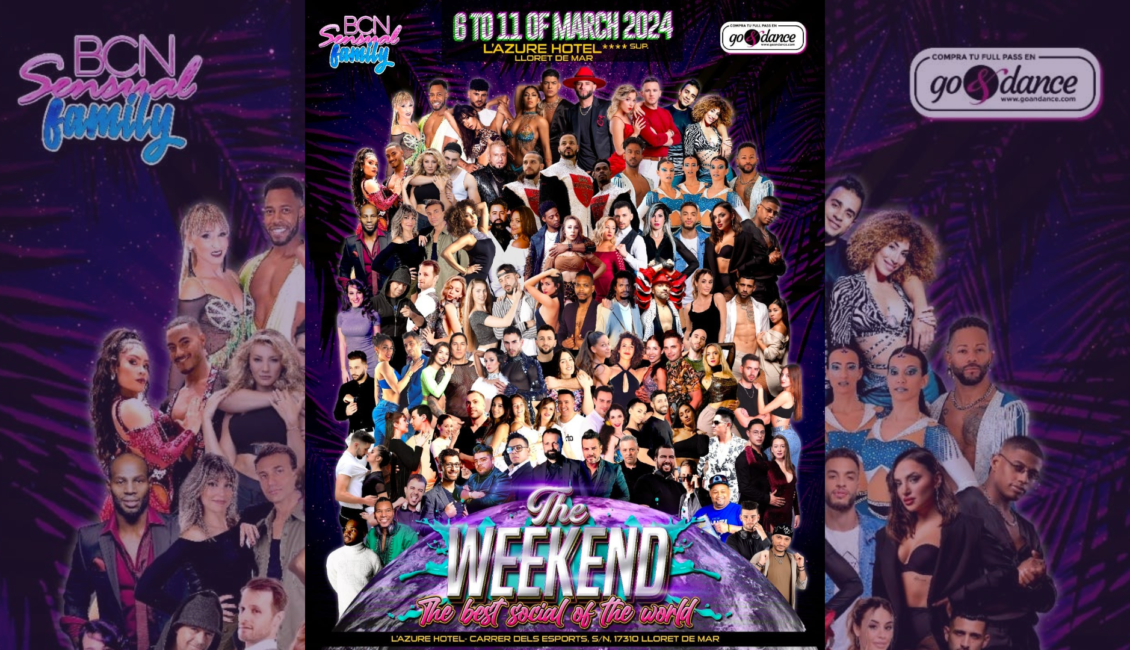 📍 BCN SENSUAL FAMILY – THE WEEKEND 2023
🗓 6 – 10TH MARCH 2024 – LLORET DE MAR

🔥 Promo Discount Available
In March 2024, get ready for a top lineup at BCN Sensual Family's "The Weekend" event, returning to Lloret de Mar but in a NEW venue & secondary hotels and some dancing nights & shows in the Gran Casino Costa Brava. This festival boasts a great lineup of bachata artists, while still including a healthy dose of Salsa and Kizomba, complete with nonstop social dance opportunities during day & night.
This year's event will be an extended, XXL version, spanning five full days and four unforgettable nights. With over 2,000 participants hailing from across Europe and Spain, you're sure to meet a diverse mix of fellow dance enthusiasts. Mark your calendars now for "The Weekend" in Lloret de Mar – you won't regret it!
✮✮✮ ARTIST LINE-UP ✮✮✮
⭐️ Korke & Judith
⭐️ Luis & Andrea
⭐️ Ronald & Alba
⭐️ Carlos Espinosa & Idaira
⭐️ Truji & Gloria
⭐️ Melvin & Gatica
⭐️ Fausto Félix & La fuerza Kingsmen
⭐️ El Tiguere & Bianca
⭐️ Dario & Sara
⭐️ Alfredo & Andrea
⭐️ Lau & July
and many more local artists & instructors…
Buy your tickets on Go&Dance
🏨 Main venue name and address
Hotel Azure, few meters from the Lloret de Mar bus station.

🙎🙍🏻‍♀️ Festival size: XL – Organization expects more than 2000 participants
🗓🕺🏻Sunday party: Yes


# Are you looking for other fests in Spain 🇪🇸? #
Check more info in here: Bachata Festivals in Spain.