🔥 Promo Discount code Available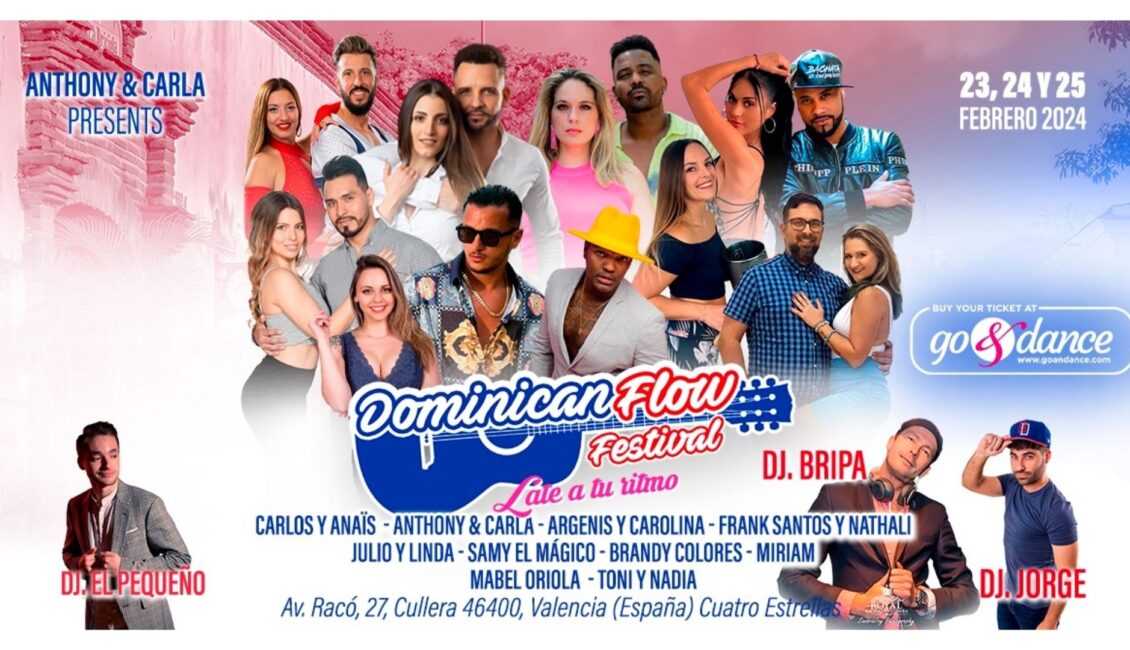 📍 DOMINICAN FLOW FESTIVAL 2024
🗓️ 23 – 25th FEBRUARY 2024, CULLERA, VALENCIA (SPAIN)
🔥 Promo Discount Available

A new event for traditional bachateros is here! This first edition of the Dominican Flow Festival, by Anthony & Carla, promises an immersive experience in traditional/Dominican bachata with world-renowned instructors. Held at the Cullera Holiday hotel, just outside Valencia (Spain) the festival will feature workshops, social dances, live music, and concerts across 3 days. The founders of the festival will share their passion and expertise alongside talent like Samy el Magico, Argenis & Carolina, Frank & Natali, and Brandy Colores. The inaugural edition of this small sized festival promises an inspiring cultural exchange for all levels.
✮✮✮ ARTIST LINE-UP ✮✮✮
⭐️ Anthony & Carla 

⭐️ Samy el Magico 

⭐️ Argenis y Carolina 

⭐️ Frank y Natali 

⭐️ Brandy Colores 

⭐️ Julio y linda 

⭐️ Miriam 

⭐️ Carlos & Anáis 

⭐️ Mabel Oriola 

⭐️ Toni & Nadia 
🎧 Dj Bripa
🎧 Dj El Pequeño Francia 
🎧 Dj Jorge Dominican Flow 
🎧 Dj Anthony Dominican Flow

🏨 Hotel Cullera Holiday
Av. el Racó, 27, 46400 Cullera, Valencia
Festival attendants must reside in the venue hotel to be able to participate in the festival.
More info on hotel reservations coming soon.

🎟 Buy your passes here
🔥 Promo Discount Available

🙎🙍🏻‍♀️ Festival size: S – Up to 300 participants
🗓🕺🏻Sunday party: More info to be confirmed with program release.

✈️ Travel information: Valencia international airport.
More info from the organization:
Dominican Flow Festival 2024
+34 606 81 38 58
justotdance@hotmail.com