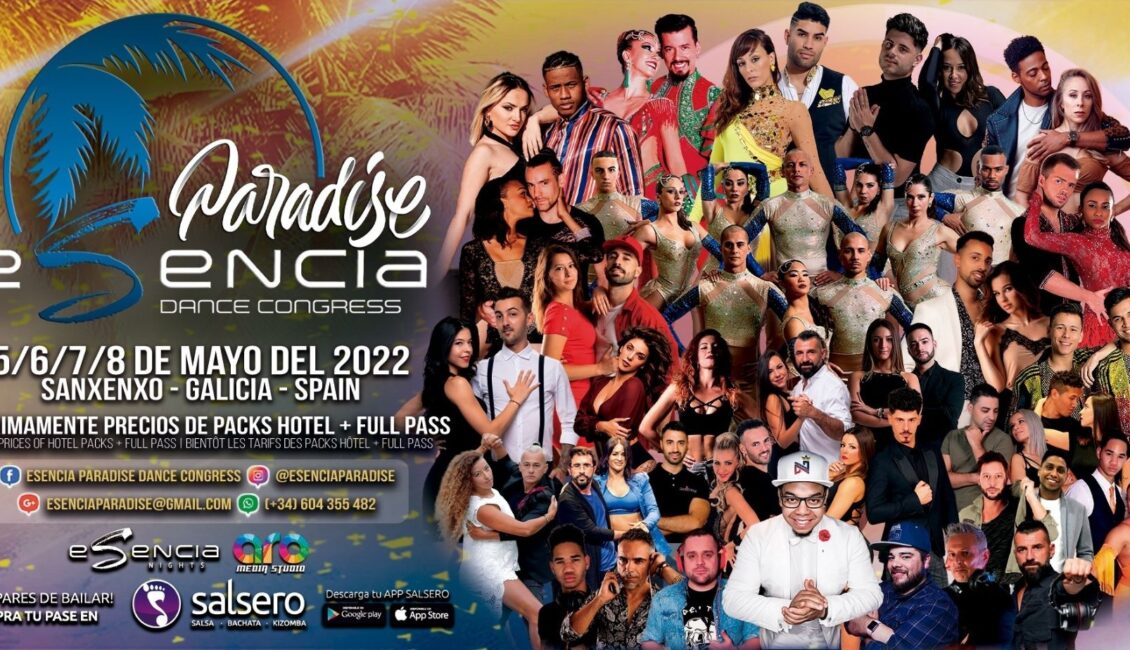 ***POSTPONED TO 2023***
📍 ESENCIA PARADISE DANCE CONGRESS
🗓4 – 7th MAY 2022, SANXENXO, GALICIA

This new festival in Galicia "Esencia Paradise Dance Congress" is an evolution from the previous local Rias Baixas Bachata Festival. The plans to become the biggest & most international dance festival in the north west of Spain. The event will be held 5-8th May in Galicia, where good food & gastronomy is also guaranteed.

A good SBK lineup, with Esencia family, 5 dance styles (Bachata, Kizomba, Salsa on1 & on2, Salsa Cubana), 1500 sq meters of dance area and up to 50 workshops, with 4 nights of shows & parties.


More info from the organizers:

🏝 SANXENXO 🏝 GALICIA 🏝 SPAIN 🇪🇸

✪✪✪ ARTIST LINE UP ✪✪✪
BACHATA

✪ Marco & Sara
✪ Luis & Andrea
✪ Gaby & Estefy
✪ Alfredo y Andrea
✪ Grupo Esencia
✪ Migle & Ros
✪ Gero & Raquel
✪ Pedro & Noe
✪ Anna Navarro
✪ Alexis & Laia
✪ Erica y Javi
✪ Ary Roman
✪ Yexy Jr & Alicia
✪ Rober & Denise
✪ Breogan Perez

SALSA

✪ Adrian & Anita
✪ Fernando Sosa & Tropical Gem
✪ Eivynd & Daniel
✪ Ana & Steve Zamora
✪ Aaron Ogando
✪ Joel Rivero

KIZOMBA / URBANKIZZ

✪ Nuno & Nagyla
✪ Isabelle & Felicien
✪ Jorge AZ & Rocio
✪ Caito & Sara
✪ Jane & Luisinho
✪ Nuno y Catia

DJ

✪ DJ York
✪ DJ Husky
✪ DJ Tony
✪ DJ Carballo
✪ DJ Jorge AZ
✪ DJ Steve
✪ DJ Ornelas

More info:
📩 esenciaparadise@gmail.com