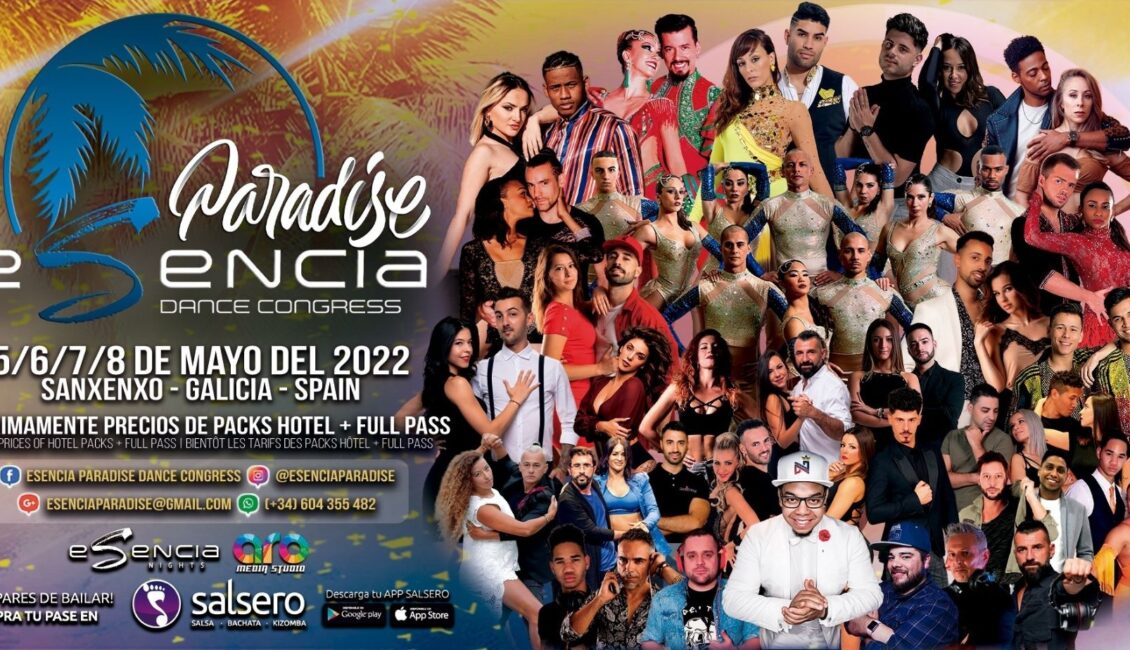 ***POSTPONED TO 2023***
📍 ESENCIA PARADISE DANCE CONGRESS
🗓 5 – 8th MAY 2022, SANXENXO, GALICIA

Esencia Paradise Dance Congress, evolving from Rias Baixas Bachata Festival, plans to become the biggest & most international dance festival in the north west of Spain. The event will be held 5-8th May in Galicia, where good food & gastronomy is also guaranteed.

A good SBK lineup, with Esencia family, 5 dance styles (Bachata, Kizomba, Salsa on1 & on2, Salsa Cubana), 1500 sq meters of dance area and up to 50 workshops, with 4 nights of shows & parties.


More info from the organizers:

🏝 SANXENXO 🏝 GALICIA 🏝 SPAIN 🇪🇸
🎟 buy your ticket in www.salsero.es


✪✪✪ ARTIST LINE UP ✪✪✪
BACHATA

✪ Marco & Sara
✪ Luis & Andrea
✪ Gaby & Estefy
✪ Alfredo y Andrea
✪ Grupo Esencia
✪ Migle & Ros
✪ Gero & Raquel
✪ Pedro & Noe
✪ Anna Navarro
✪ Alexis & Laia
✪ Erica y Javi
✪ Ary Roman
✪ Yexy Jr & Alicia
✪ Rober & Denise
✪ Breogan Perez

SALSA

✪ Adrian & Anita
✪ Fernando Sosa & Tropical Gem
✪ Eivynd & Daniel
✪ Ana & Steve Zamora
✪ Aaron Ogando
✪ Joel Rivero

KIZOMBA / URBANKIZZ

✪ Nuno & Nagyla
✪ Isabelle & Felicien
✪ Jorge AZ & Rocio
✪ Caito & Sara
✪ Jane & Luisinho
✪ Nuno y Catia

DJ

✪ DJ York
✪ DJ Husky
✪ DJ Tony
✪ DJ Carballo
✪ DJ Jorge AZ
✪ DJ Steve
✪ DJ Ornelas

More info:
📩 esenciaparadise@gmail.com