🔥 Promo Discount Available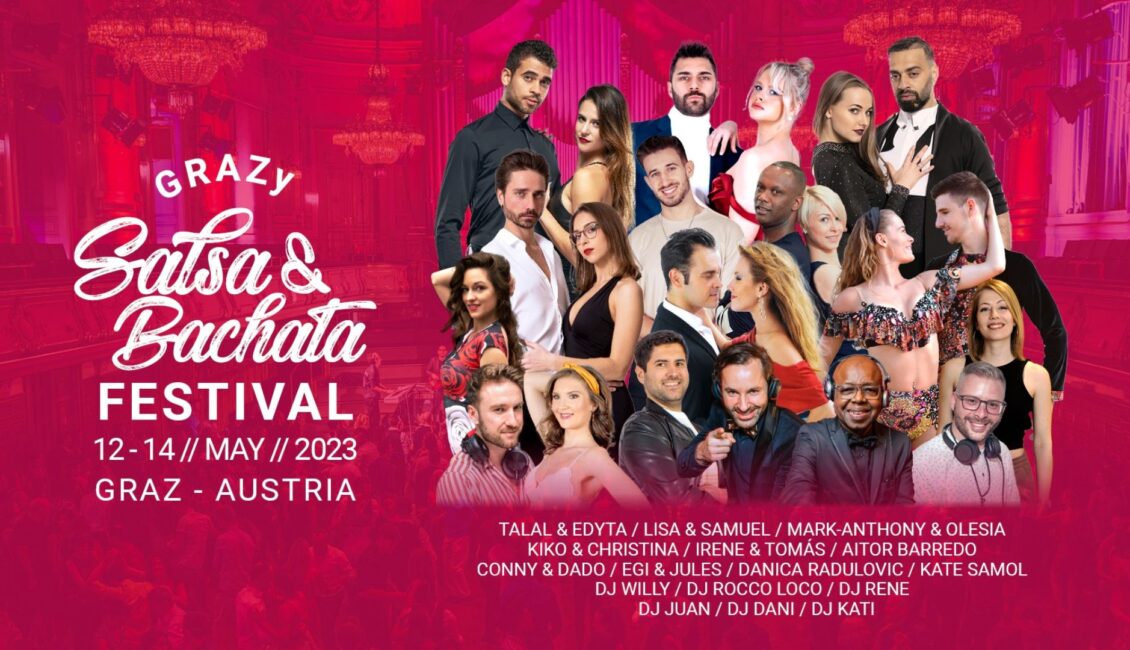 📍GRAZY SALSA & BACHATA FESTIVAL 2023
🗓 12TH – 15TH MAY 2023, GRAZ (AUSTRIA)

Do you imagine dancing in a congress halls that had it's origins in 1885? Then you might wanna check the Austrian GRAZy Salsa & Bachata Festival 2023. After last year's smaller edition, the festival is back again. The main gala night will take place in a beautiful location, providing the perfect setting for a weekend of dancing, learning and socializing, with two separate floors at every party: 100% Salsa & 100% Bachata. The Gala Party will feature a live Salsa concert, international and national artists and DJs, amazing shows and throughout the entire weekend.

✮✮✮ ARTIST LINE-UP ✮✮✮
⭐️ Kiko & Christina 🇪🇸 / 🇩🇪
⭐️ Irene & Tomás 🇪🇸
⭐️ Aitor Barredo 🇪🇸
⭐️ Egi & Jules 🇱🇹 / 🇦🇹
⭐️ Kate Samol 🇬🇧
Salsa
⭐️ Talal & Edyta 🇧🇪 / 🇵🇱
⭐️ Lisa & Samuel 🇩🇪
⭐️ Mark-Anthony & Olesia 🇭🇺 / 🇺🇦
⭐️ Conny & Dado 🇦🇹
⭐️ Danica Radulovic 🇷🇸
• DJ Willy (NL)
• DJ Rene (AUT)
• DJ Juan (NL)
• DJ Dani (ESP)
• DJ Kati (AUT)
• DJ Rocco Loco (SLO)
Salsa Live Band:
• Mala Mana Orchestra (IT)
LOCATION:
• Workshops: Tanzschule Conny & Dado – Körösistraße 81
• Friday Party: TBA
• Saturday Gala Party: Congress Graz – Albrechtgasse 1
• Sunday Party: Tanzvilla am Geidorfplatz – Körblergasse 1
🎟 Buy your passes here
• Early Bird Full Pass: 109€
Promo code: BACHATALOVESME-GSB23

More info from the organizers:
• Website: www.grazysalsa.com
• E-Mail: info@connydado.at