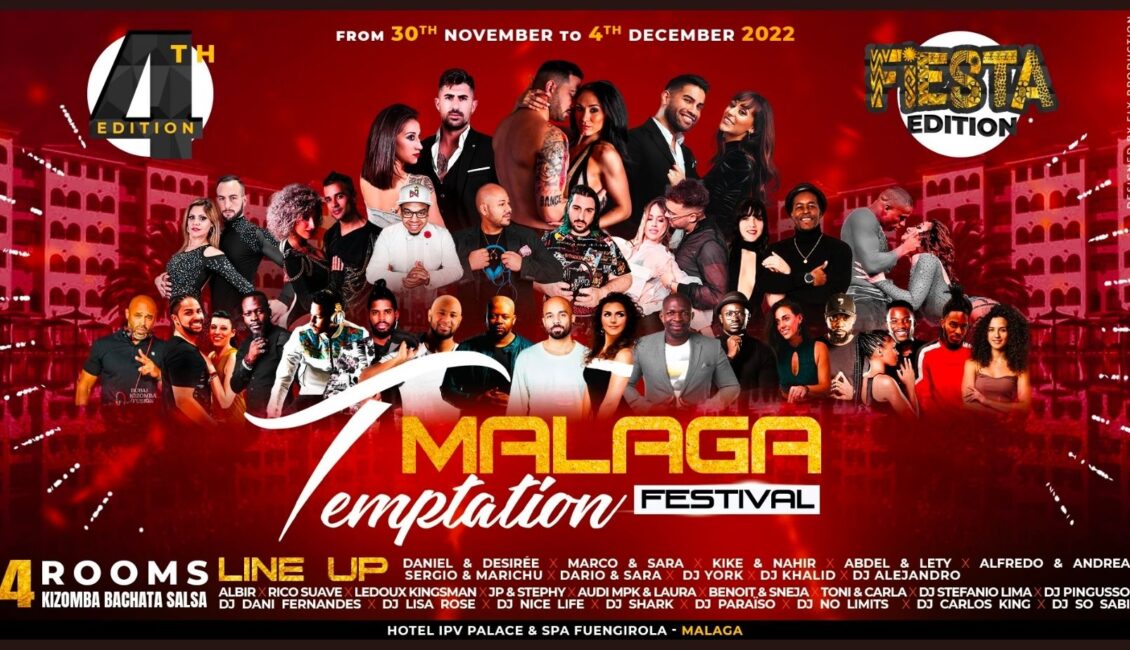 📍 MALAGA TEMPTATION (FIESTA EDITION)
🗓 30th NOVEMBER – 04th DECEMBER 2022 – MÁLAGA (SPAIN)

The 4th edition of Malaga Temptation arrives between 30th November to 04th December. The Temptation brand, linked with Kizomba festivals, is expanding a bit more into Bachata in every edition. With their motto: "the best or nothing" Temptation will offer a really strong line-up in both Bachata & Kizomba, offering as well salsa room.
✮✮✮ ARTISTS LINE-UP ✮✮✮


BACHATA ARTISTS
⭐️ Daniel & Désirée
⭐️ Marco & Sara
⭐️ Kike & Nahir
⭐️ Abdel & Lety
⭐️ Alfredo & Andrea
⭐️ Sergio & Marichu
⭐️ Dario & Sara
🎧 DJ york
🎧 DJ Khalid
🎧 DJ Alejandro


KIZOMBA ARTISTS

⭐️ Albir Rojas
⭐️ Ledoux Kingsman
⭐️ JP & Stephy
⭐️ Audi MPK & Laura
⭐️ Rico Suave
⭐️ Davide & Laura
⭐️ Toni & Carla
🎧 DJ PARAÏSO
🎧 DJ PINGUSSO
🎧 DJ STEFANIO LIMA
🎧 DJ DANI FERNANDES
🎧 DJ LISA ROSE
🎧 DJ CARLOS KING
🎧 DJ NICE LIFE
🎧 DJ SO SABI
🎧 DJ NO LIMITS
🎧 DJ SHARK


SALSA ARTISTS coming soon
🎟 TICKETS BOOKING
https://temptationfestival.fr/
🏨 HOTEL BOOKING with promo code MTF2022
https://www.hotelipvpalace.com/