🔥 Promo Discount Available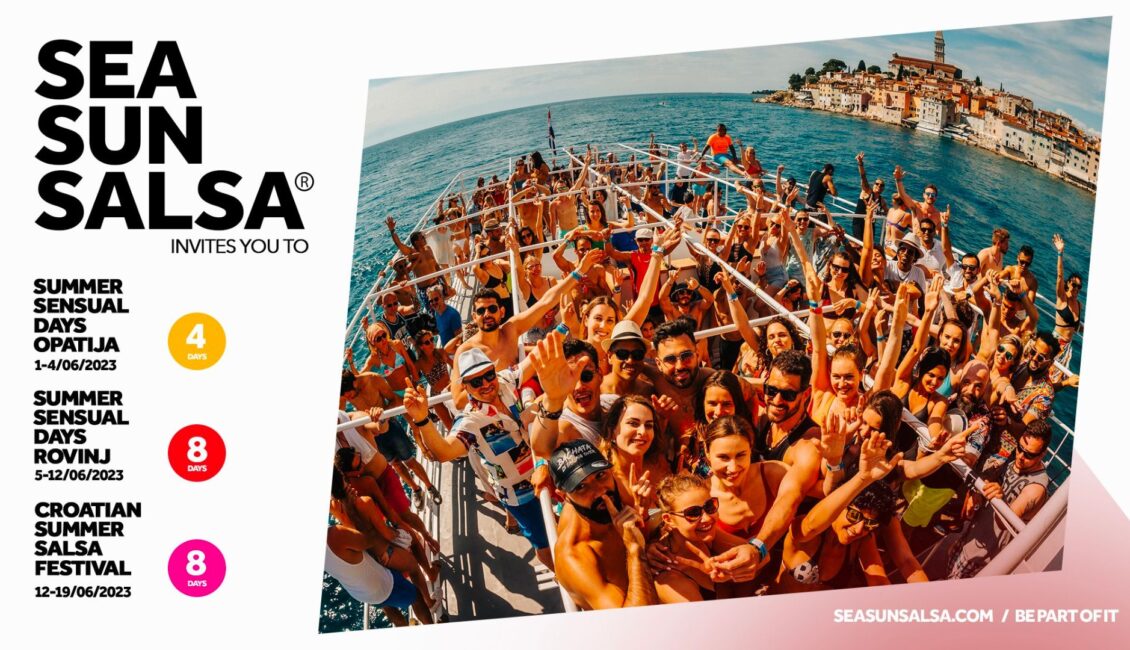 📍ROVINJ SSD SUMMER SENSUAL DAYS
🗓 05th – 12th JUNE 2023, ROVINJ (CROATIA)
🔥Promo Discount Available.
For many, one of the best dance festivals of Europe. After pandemic SSD Summer Sensual Days plans to arrive in 2023 bigger and better. The festival without doubt is a "top sensual experience of thousands of bachata and kizomba dancers from all around the world". This festival is not just a week of craziness, dance, pool parties, boat parties, pre-parties, afterparties and dance all over the city! But also the magic of the city, their amazing sunsets & sunrise… oh, and what happens in Rovinj, stays in Rovinj! Don't miss it. One of our top recommended festivals of the year. Period.

🔥 A TOP recommended festival. Bachataloves.me is proud OFFICIAL AMBASSADOR


✮✮✮ ARTISTS LINE UP (BACHATA & KIZOMBA) ✮✮✮

⭐️ Antoni & Belén 🇪🇸
⭐️ Sergio & Marichu 🇪🇸
⭐️ Nuno & Nágyla 🇵🇹
⭐️ Isabelle & Felicien 🇫🇷
⭐️ Azael & Sindi 🇲🇽🇱🇹
⭐️ Azzedine 🇫🇷
⭐️ Junior & Carolina 🇨🇴🇩🇴
⭐️ Paulo & Lanna 🇵🇹🇦🇴
⭐️ Carlos & Chloe 🇪🇸🇦🇺
⭐️ Iva & George 🇩🇪🇷🇴
⭐️ Alan & Jessica 🇪🇸
🎧 DJ York
🎧 DJ Alejandro
🎧 DJ Khalid
🎧 DJ Manuel Citro
🎧 DJ El Tiguere
🎧 DJ Dimen5ions
🎧 DJ David Pedron
★ Bachata & Kizomba day & night.
★ Workshops on the weekend (included in fullpass) or Prefestival workshops on Wednesday & Thursday (Freak Pass)
★ Beach & pool parties & several amazing boat parties. (boat parties not included in Full Pass)
★ Everything happening in a beautiful & picturesque croatian city

This year… there will be outdoor dancing points: Thursday & Friday evening we will be dancing in the main square of Rovinj between 20:00 – 00:00 before heading to the Party at the Adris Old Tobacco Factory – Show Hall.

🙎🙍🏻‍♀️ Festival size: XXL Organization expects +2000 attendees.
🗓🕺🏻Sunday party: There will be in the main venue. Also a monday after party.

If you wanna extend your festival up to 10 days, then you could join Opatija Summer Sensual Days, a smaller version, in another Croatian City. Opatija Summer Sensual Days 2023.

More info from the organizers:
https://www.summersensual.com/
Follow us on Instagram. Check our updates, discounts, stories.