📍 TERRA LIVRE DANCE FESTIVAL
🗓 20 – 22ND JANUARY 2023 – TALAVERA DE LA REINA, TOLEDO (SPAIN)

With the motto "Because Dance roles have no gender" the Terra Livre Dance Festival presents itself as the first SBK festival without gender roles and as a "role rotation" festival. The festival will attract role rotation fans, with a line up that includes top representatives of genderless social dances. The second edition of the Festival (Winter Edition) will take places in Talavera de la Reina, in Sala Cachet. When you buy your full pass choose if you would like to attend as Leader, Follower or Both roles, sex or gender it's not important in this festival. The festival will be also based in the principles of role rotation.

✮✮✮ ARTIST LINE-UP ✮✮✮
⭐️ Magda y Valeria (IT)
⭐️ Stephanie Lucero (ARGEN)
⭐️ Felipe y Tiago Rolerotation (SP/PT)
⭐️ Filipa Antunes (PT)

⭐️ Tiago Ferreira (PT)
⭐️ Pedro e Rita (PT)
⭐️ Almudena (SP)
⭐️ Jessica Latham (GB)
⭐️ Ronin Connection (SP)
⭐️ Florence & Ricky (ALE)
⭐️ Cedric y Magda (PT)
⭐️ Tal y Sveta (ISRAEL)

And many more artists & local talent from Spain & Portugal.

🎧 DJRSilva & Iris (PT)
🎧 DJ AV (SP)
🎟 Boom your full pass now. From 45€
🏨 Event location: Sala Cachet, Talavera de la Reina, Toledo, Spain.

More info from the organizers:
www.terralivredancefestival.com
terralivredancefestival@gmail.com
Instagram: @terralivredancefestival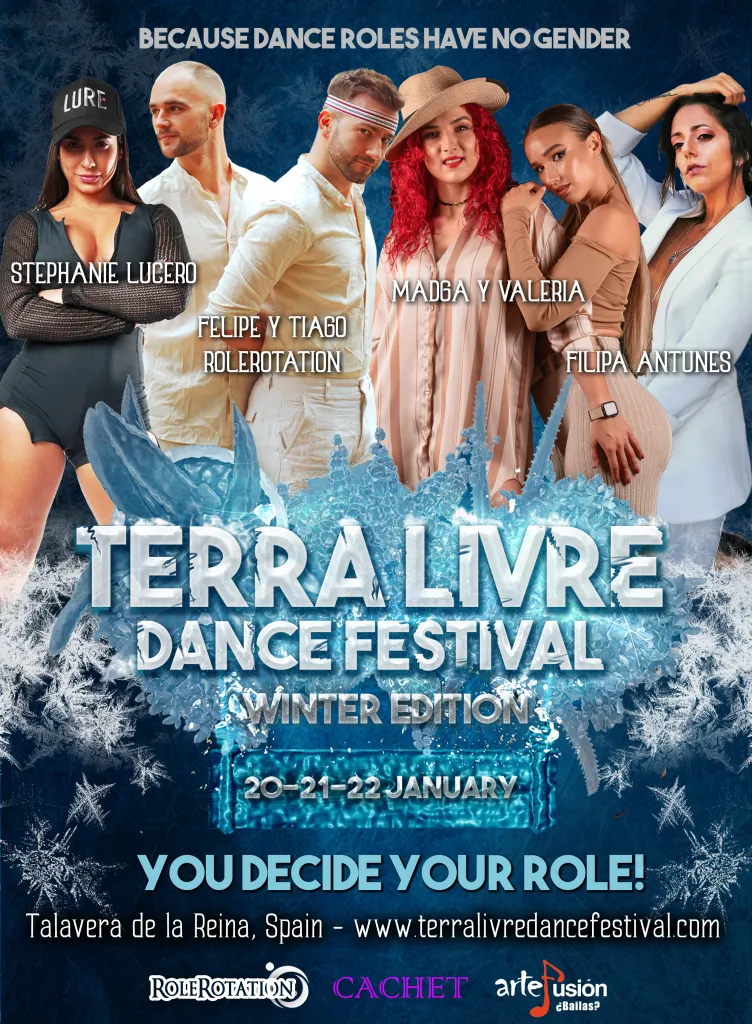 # Are you looking for other fests in Spain 🇪🇸? #
Check more info in here: Bachata Festivals in Spain.