🔥 Promo Discount Available
📍 VAMOS A BAILAR CONGRESS 2023
🗓 26 – 29th MAY 2023, LLORET DE MAR
🔥 Promo Discount Available
A new SBK event taking places in Evenia Olympic Resort, in Lloret de Mar, between May 26th to May 29th (monday). Organizers promise 60 hours of Salsa, Bachata and Kizomba Workshops in 6 rooms, with 2 levels per discipline. The event created by Tropicuba France aims to bring lots of french dancers, as offering bus transfer from french cities like: La Seyne sur mer, Marseille, Aix en Provence, Martigues, Avignon, Montélimar. There will be 3 social areas, shows and 3 rooms in the evenings. A line up filled with international & french artists.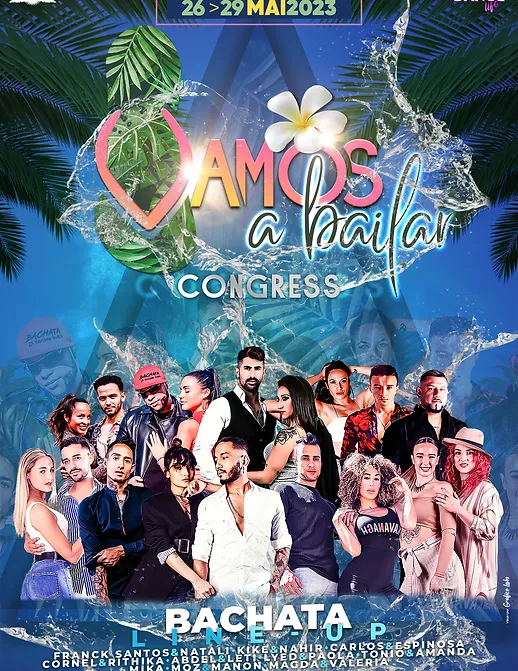 ✮✮✮ ARTIST LINE-UP ✮✮✮
⭐️ Frank Santos & Natali 🇩🇴🇪🇸
⭐️ Kike & Nahir 🇪🇸
⭐️ Abdel & Lety 🇪🇸
⭐️ Carlos Espinosa 🇲🇽
⭐️ Cornel & Rithika 🇮🇳
⭐️ Magda & Valeria 🇮🇹
⭐️ Tonio & Amanda 🇫🇷🇨🇱
And many more…
Check also their full salsa & kizomba line up here.

🏨 Evenia Lloret de Mar Resort
🎟 Buy your passes here
ADD DISCOUNT PROMO CODE: BACHATALOVESME
Includes access to all activities during the 4 days and 3 nights of the congress in salsa, bachata and kizomba + 3 nights in a DOUBLE room at the host hotel at 4 ****. Includes full board (breakfast, lunch and dinner) with water and wine on table (from Friday dinner to Monday lunch)

Already possible to buy a Bachata Pass or Bachata Pass with accommodation.
Buy in Go & Dance
**🙎🙍🏻‍♀️ Festival size: TBC