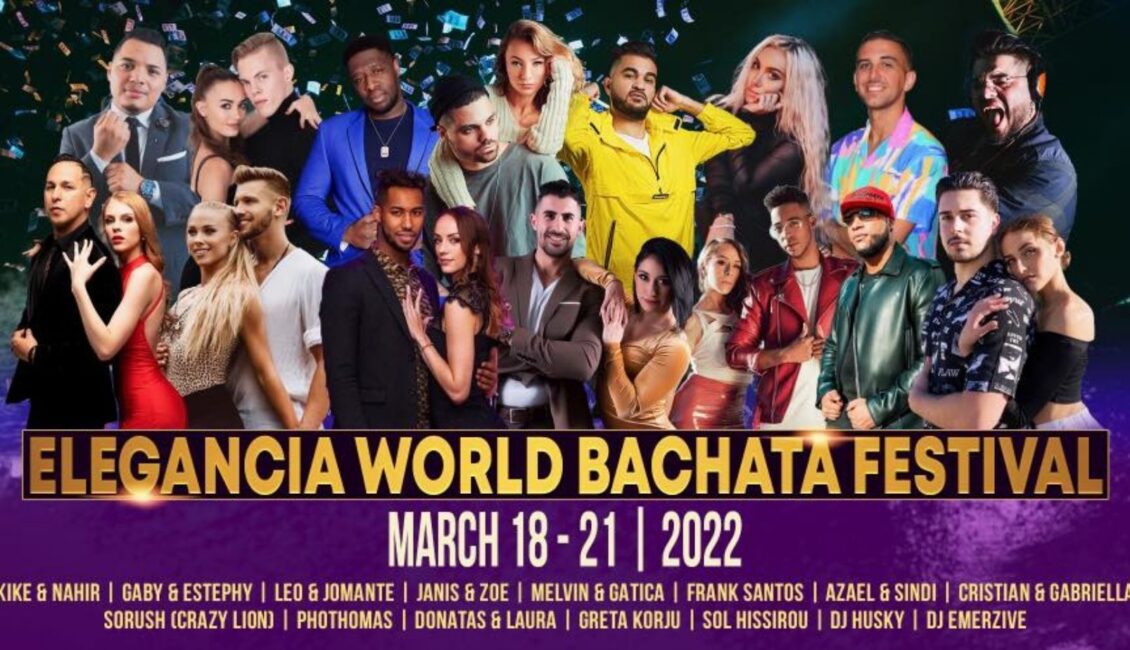 ***POSTPONED TO 2023***
ELEGANCIA WORLD BACHATA FESTIVAL
18 – 20th MARCH 2022 – VILNIUS (LITHUANIA)

***Due Covid19 restrictions & regulations the event will be postponed to 2023***
The Elegancia family & fans will have another opportunity to meet up this 2022 in their Elegancia World Bachata Festival, by Leo & Jomante.

Previous succesful edition was held in August 2021, after moving the dates due Covid19 related restrictions. Some international artists + a representation of Baltic teachers from Estonia & Lithuania.
---
LINE UP:

Kike & Nahir (Spain)
Gaby & Estephy (Spain)
Leo & Jomante (USA/Lithuania)
Janis & Zoe (Germany)
Melvin & Gatica (France/ Spain)
Frank Santos (Spain)
Azael & Sindi (Mex/Lithuania)
Elegancia Dance Company (Lithuania)
Sorush/Crazy Lion (SWE)
PhoThomas (Italy)
Sol Hissoru (UK)
Donatas & Laura (Lithuania/Elegancia)
Greta Korju (Estonia/Elegancia)
Rado & Anastassija (Estonia)
Darius & Justina (Lithuania)
Elegancia World Bachata Festival

2022
(Vilnius, Lithuania)
March 18-21
DJ's:DJ Husky (Spain)
DJ Emerzive (USA)
Weekend Schedule
Friday:7pm – 9pm: Workshops
10pm: Shows
11pm – 6AM: Social PartySaturday:12pm – 6pm Workshops
9pm: Pre Party workshop w/ TBA
11pm: Shows
10pm – 6AM: Social Party
Sunday:12pm – 6pm Workshops
10pm – 6AM: Social Party
Prices:
Early Bird Full Pass: 110 Euros
Couples Full Pass: 250 (125 per Person)
Full Pass: 135 Euro