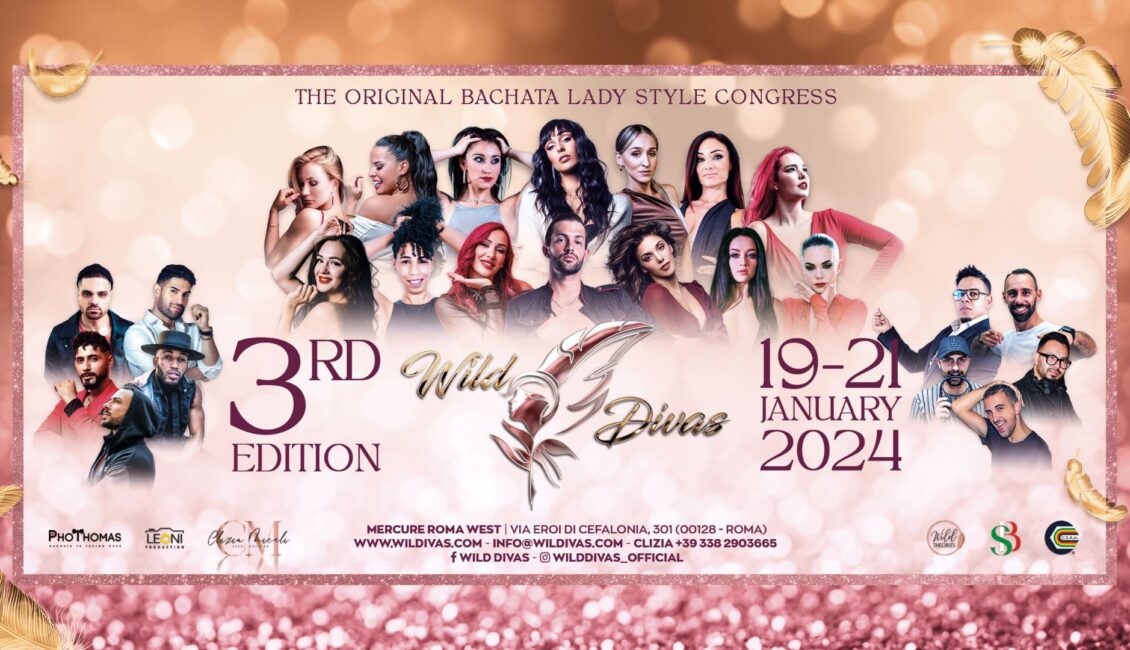 📍 WILD DIVAS LADY STYLE 2024
🗓 19th – 21nd JANUARY 2024, ROME (ITALY)

Wild Divas Bachata Lady Style Congress Rome 2024 returns for its 3rd edition, with girls ready to rock! A congress suited for dancers that want to improve their lady styling, with workshops, bootcamps, shows & social dance. But if you are a leader and also interested in your styling there will be a track for leader style too!
As previous edition the event will be held in Rome, at Mercure Roma West hotel, and organizers promised "the biggest stars of the international scene with whom you will have the opportunity to improve technique, style and musicality". The event will also included Bootcamps Simona Buonanno & 8h of masterclasses with top instructors.

✮✮✮ ARTIST LINE-UP ✮✮✮
✮ LADY STYLE
⭐️ Sara Panero
⭐️ Simona Buonanno (+Bootcamp)
⭐️ Maria Angeles
⭐️ Alba Sanchez
⭐️ Gatica
⭐️ Nahir
⭐️ Noura
⭐️ Carolina Rosa
⭐️ Maria Luneva
⭐️ Evelyn la Negra
⭐️ Dalila Longo
⭐️ Anna Navarro
⭐️ Elza Kham
⭐️ Gabriele di Marzo
✮ MEN STYLE
⭐️ Marco Espejo
⭐️ Melvin
⭐️ Coach Braun
⭐️ Oscar
⭐️ Willy

🎧 DJ Evelyn La Negra
🎧 DJ York
🎧 DJ Patrick
🎧 DJ Villalobos
🏨 Mercure Roma West Hotel. Via Eroi de Cefalonia, 301

🎟 Full pass Lady Style from 90€ and Men pass from 60€.
Also available Gold Pass (front row on workshops)
and extra add-ons on Boot Camps, or other options in Gold Pass, Master Pass, Gold Master Pass *
🎟 Wild Divas 2024 – Tickets on official web

If you want to use PROMOCODE to buy ROOM + PASS please use :
DOUBLEBACHATALOVESME 10€ discount
TRIPLEBACHATALOVESME 15€ discount
For the FULL PASS (ONLY) Use "BACHATALOVESME"
More info on passes:
GOLD PASS
• LIMITED SPOTS
• Right to attend all workshops in the 𝗙𝗿𝗼𝗻𝘁 𝗥𝗼𝘄
• Gadget 𝗪𝗲𝗹𝗰𝗼𝗺𝗲 𝗞𝗶𝘁 (Top + Pochette + Lip Balm)
• Friday & Saturday night parties.

MASTERPASS 🇬🇧
8 hours of great formation as follows:
Sara Panero 3h, Nahir 1h, Alba 1h, Carolina 1h, M. Angeles 1h, Gabriele 1h

The idea of organizers is to "provide advanced dancers an opportunity to improve their skills" The masterclasses are not at the same time of other workshops. They are limited spots. You will be still be able to join the rest of 3 days of workshops and join Friday & Saturday parties.

BOOTCAMP: •𝟲 𝗵𝗼𝘂𝗿𝘀 𝘁𝗿𝗮𝗶𝗻𝗶𝗻𝗴 to learn a coreo that you will dance with Simona on stage saturday night, before social dance

More info from the organizers:
www.wilddivas.com

+39 ‭3382903665‬