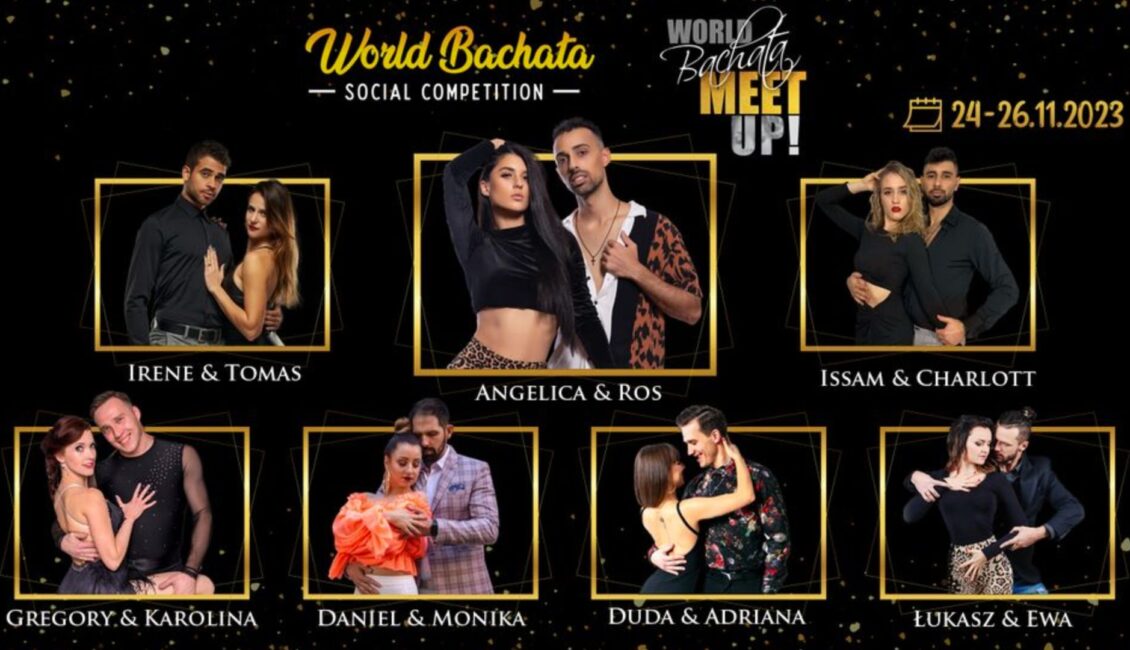 📍 WORLD BACHATA MEET UP! 8th EDITION
🗓 24 – 26th NOVEMBER 2023 – WARSAW, POLAND00

This November 2023 arrives the 1st edition of the World Bachata Meetup, a follow up from the well stablished Warsaw Bachata Meet Up! The team behind the project plans to create other social dance competitions in festivals around europe (Prague, Berlin, Warsaw…) and create a social dance competition final in Warsaw. Their Jack & Jill Competition in Poland attracts talented social dancers from all over the country and slowly international attendees too.

✮✮✮ ARTIST LINE-UP ✮✮✮
⭐️ Ros & Angelica
⭐️ Irene & Tomas
⭐️ Issam & Charlott
🇮🇩
⭐️ Gregory&Karolina
⭐️ Daniel&Monika
⭐️ Duda & Adriana
⭐️ Lukasz & Ewa

🎧 TBC
The event will have 3 night parties (Thursday Pre-party, Friday & Saturday)
🎟 Price FULL PASS from 65€
How to buy your pass?
Registration and buying passes is "old school", a pity organization didn't upgrade to a ticket online platform.

To register you will need to send an e-mail to "kursy@salsaclasica.pl" with your name, surname, email and phone and details about your payment already done,.

Please do a bank transfer to:
Account name: Salsa Clasica
IBAN: PL72114020040000320273153200
BIC: BREXPLPWMBK
TITLE: WORLD Bachata Meet Up! 2023 name and surname
The possibility of rewriting full pass is possible only if you'll pay the diffrence between past and current price on the festival account. Possibility of rewriting your pass is possible until 15.11.2023